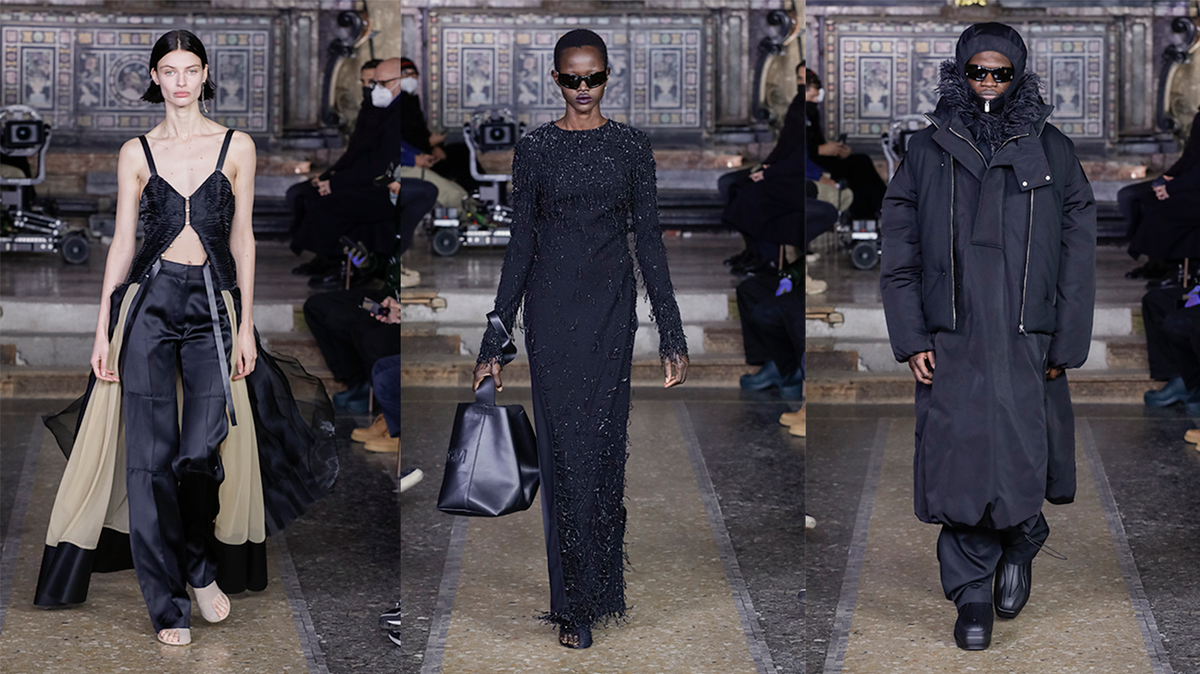 1017 Alyx 9SM evolves into a new era for AW22
After two years off the catwalk because of the you-know-what, last night at Milan Fashion Week's opening night, Matthew Williams' 1017 ALYX 9SM held a physical show at a century-old church of Italy city. While it may have sounded like the "return to normal" we've all talked about so much over the past year, one look at the setup proves we're not there yet. Presented to a small, socially distanced audience of around 70 – a cautious approach that we're likely to see more of from those choosing to hold physical shows amid Omicron's rise in Europe – the feeling of limbo that pervades our collective experience of everyday life was felt in the room.
It was also conveyed by the title Matthew chose for this season's collection: Fade. "I wanted to frame it in a way that conveys the idea that there's this constant back and forth between a world we once knew and the world today," he said in a preview the day before the show. "Between normalcy and this surreal other life we ​​live in."
Rather than trying to design a collection that speaks directly to this existential ambivalence – to cater to the appetites of an audience that doesn't know if they'll be in town or slumped on the sofa next weekend – he and his team stayed with a more intuitive approach. "I find it hard to think what other people are thinking," he said. "It might sound narcissistic, but I don't really design clothes thinking about what other people would want. With my brand, that's really what me and my team want to do this season. I'm just doing what I want and what I think is cool.
For AW22, that meant an update to the impeccably cut, tech-informed shapes that Matthew has established as the foundation of the brand since its inception – Alyx, after all, is "about evolution, not revolution". Familiar archetypes – whether brand staples or instantly recognizable – have been re-evaluated. Men's trousers inspired by workwear silhouettes came in fabrics ranging from aubergine wools, pearlescent satins and buttery black leathers, while perfectly cut outerwear with metal clasp closures came in heavyweight cashmere and curly wool. Elsewhere, chunky jackets of thick sheepskin and thick, smooth PVC created heavy, broad-shouldered silhouettes, the severity of which was at times counterbalanced by the frou-frou camp of ostrich-feather collars and feminine glamor front-closing bustiers with trailing trains and a long-sleeved shift dress delicately embroidered with chain-stitch sequins.
On the footwear front, a major area of ​​technological innovation for the brand, we saw the return of the injection-molded EVA foam Mono boot – this time with a raised insole, a testament to the brand's pioneer in new forms of technologically informed craftsmanship. — as well as the introduction of a new single-toe silhouette inspired, believe it or not, by bunion wraps. As esoteric as it may sound, the ability to elevate such obscure but mundane references into a compelling, elegant and cutting-edge proposition is testament to Matthew's ability to "examine today's ecosystem that m 'surround and myself and mark it, synthesize that together and offer it as today's meal,' he says. "And next season we will serve something different." I can't wait to meet you in six months to see what's on the menu!