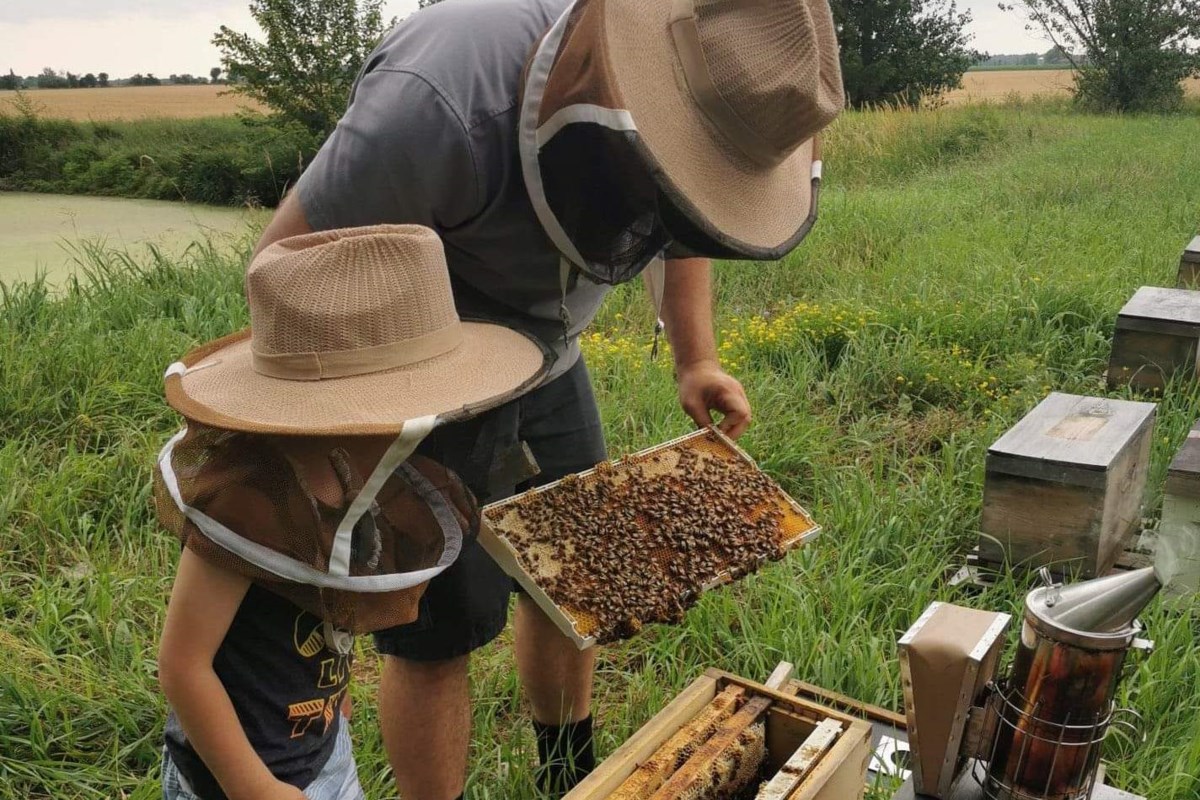 Beekeeping is buzzing with activity during the pandemic (6 photos)
"There's a little more to (beekeeping) than just throwing them in your garden…and collecting honey to roast them," says Mike Barks.
Mike Barks turned his childhood hobby into a pretty sweet — and successful — Business.
The 33-year-old from Stayner started keeping bees when he was 10 years old. He first started his beekeeping supply business from his home in 2016 before opening a small retail store in Minesing in the summer of 2020.
"I was the kind of kid who was glued to the Discovery Channel. I was always interested in nature, birds, bugs… that's what always piqued my interest," he says. bees have always been something that stuck with me.
"I got started with my dad, who had met an old beekeeper here in Barrie and he showed us a few things. We ended up buying a few hives from him and it just grew from there."
Since opening the doors of Barks Apiaries, located at 1503 Snow Valley Rd., business has been booming.
"Beekeeping seemed to really take off during the pandemic. People were stuck at home looking for something to do, so a lot of people got into beekeeping," says Barks. "When people think of beekeeping, they obviously think of honey, but there are also candles, beeswax… creams, lotions, other skin care products.
"If you get into the business side of things… pollination is a pretty big thing right now. It's always been a big industry, but even more so in recent years because we've had shortages of available bee hives" , he adds. . "Big commercial companies (orchards) are looking for beekeepers to provide bees to pollinate crops so they can actually produce a harvest."
For the typical hobbyist, however, beekeeping can also be relaxing.
"You buy a few hives and it's kind of like having a pet…so there's a lot of work involved, which some people don't realize until they get into it," Barks said. "There's a bit more to it than just throwing them in your garden…and collecting the honey from them for toast.
Barks suggests anyone interested in beekeeping start by "doing their research", noting that it can be very involved. — in cost and time.
"The University of Guelph is a great resource for beekeeping. They have the bee research center and I also recommend taking a workshop," he says. "They'll walk you through the basics of what you need to get started as far as tools go."
He also suggests finding a beekeeper in your area. — or check to see if there is a club you can join in your community.
"Contact a beekeeper who can maybe take you into a hive and really show you what it's all about. You could spend quite a bit of money just to get started," he says. "It's one of those things you can spend in oblivion and never be happy, so make sure it's something you really want to do before you make the investment.
"It's a commitment both in terms of cost and time, because once you have them, you have to take care of them."
Once you've made up your mind, Barks Apiaries has just about everything you need to get started.
"'I provide everything from your hive's basic items, clothing, tools, honey, processing equipment… and I'm always looking to bring new things and grow the business. We are looking to have more space and product availability," says Barks. "The good thing about beekeeping is that I have the minimum of what I need in my showroom just to show off what we have."