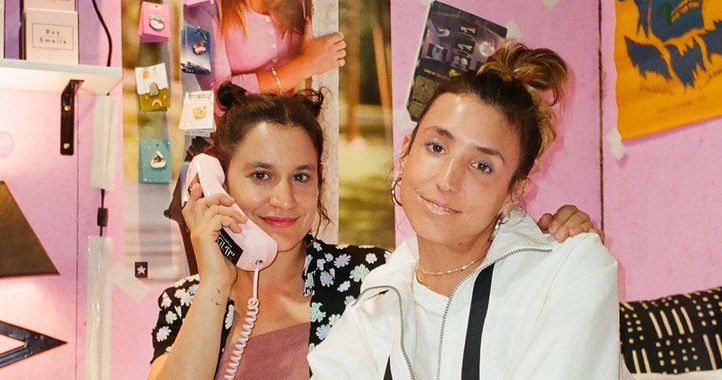 Best Friends Selling Crazy Housewares at Friends NYC
Mary Meyer and Emma Kadar Penner.
Photo: Courtesy of Friends NYC
Friends NYC, a vintage store, opened in 2012 and was founded by store owners and best friends Mary Meyer and Emma Kadar-Pener.
What started out as a little vintage boutique in Bushwick with a few rolling shelves and a few items on a table has now grown into 2,200 square feet of space with hundreds of products. While Friends NYC still carries vintage clothing and a variety of accessories and jewelry, the real draw these days is their gifts and home items with a sense of humor. Displayed around the store, candles that look like chopsticks, Botox syringe ornaments, and Mariah Carey's greeting cards. The duo are inspired by "weird and wonderful salons in Paris, LA, Las Vegas, Tennessee, Florida and everywhere in between."
"Friends is a community, not just a store, and people respond to it viscerally," Kadar-Penner told The Cut.
The Cut spoke with the BFFs about vintage, mushroom and Telfar bags.
What's the one thing in the store that is especially important to you?
Emma: I will always have a weakness for the vintage clothes we sell. Although we have evolved into home decor, we still sell vintage clothing and always will. I love that vintage is durable, one of a kind, and also cool AF.
Married: Friends just released a new candle, Head High, which I love. Emma and I developed the scent together, and I love seeing our ideas refresh.
How to thank someone for a gift?
Emma: Take the time to send a handwritten note.
Married: A greeting card or a hug.
What would you never wear?
Emma: Real fur and six inch heels.
Married: Low waist jeans.
What is your dream vacation?
Emma: Paris. Thank you.
Married: Always a beach vacation with tacos and margaritas or wine involved, and no cellphones or Wi-Fi.
What's a good book on your coffee table right now?
Emma: I'm currently in a Melissa Broder vortex. We read Milk fed for our book club, and now I'm reading his collection of essays, So sad today. His writing is scorching, raw and impossible to let go.
Married: Six seasons by Joshua McFadden and Martha Holmberg.
The last show you watched in a row?
Married: White lotus.
Emma: the HBO docuseries Lowering. It was fascinating and dark, and I couldn't look away. I also never watch reality TV excessively. Give me the Real housewives, Vanderpump Rules, Under the bridge, The bachelorette, and a weekend – I'll crush them.
What is your guilty pleasure?
Emma: I can't believe I'm saying this publicly, but it's Ed Sheeran.
Married: books by John Grisham.
A secret to organizing a good party?
Emma: Natural wine and cheese. You can't go wrong with a maximum cheese plate.
Married: Have enough wine on hand.
What's a trend that you like right now?
Emma: Mushrooms, all day every day! We are witnessing the biggest mushroom moment happening in interior design and jewelry. We have a collaboration with Rompotodo ceramists in the new year. We have designed a mushroom vase and can't wait to launch it. This is very cute.
Married: Work clothes, which is also something we sell at Friends. We have been offering the Dickies range for years and we also buy it from our vintage suppliers.
The one you don't understand?
Emma: Unpopular opinion… Telfar bags.
Married: Again, low rise jeans.
Favorite restaurant in New York?
The two: The Four Horsemen in Williamsburg.
What's the one thing you could eat everyday for the rest of your life?
Emma: Cheese.
Married: Tacos.
What shoes do you wear most often?
Emma: My classic black Vans Era and those weird Nike Air Max that are clear on the front. I found them at an Opening Ceremony Sample Sale (RIP), and we've been in love ever since.
Married: Suits you.
What are the five inanimate objects that bring you joy?
"I am obsessed with vintage housewares. "-Marie
"I have always been obsessed with Living Libations products and love to apply their sea buckthorn oil to my body. It smells and feels divine and is totally natural. —Emma
"The last time I was in Paris, I bought my husband this hinoki scent and I often sneak into his bathroom to use it myself. Buly was founded in the 19th century, and everything they make is perfect – a great source of special holiday gifts. —Emma
"It is made in Paris from recycled wool. You know it's fancy. —Emma