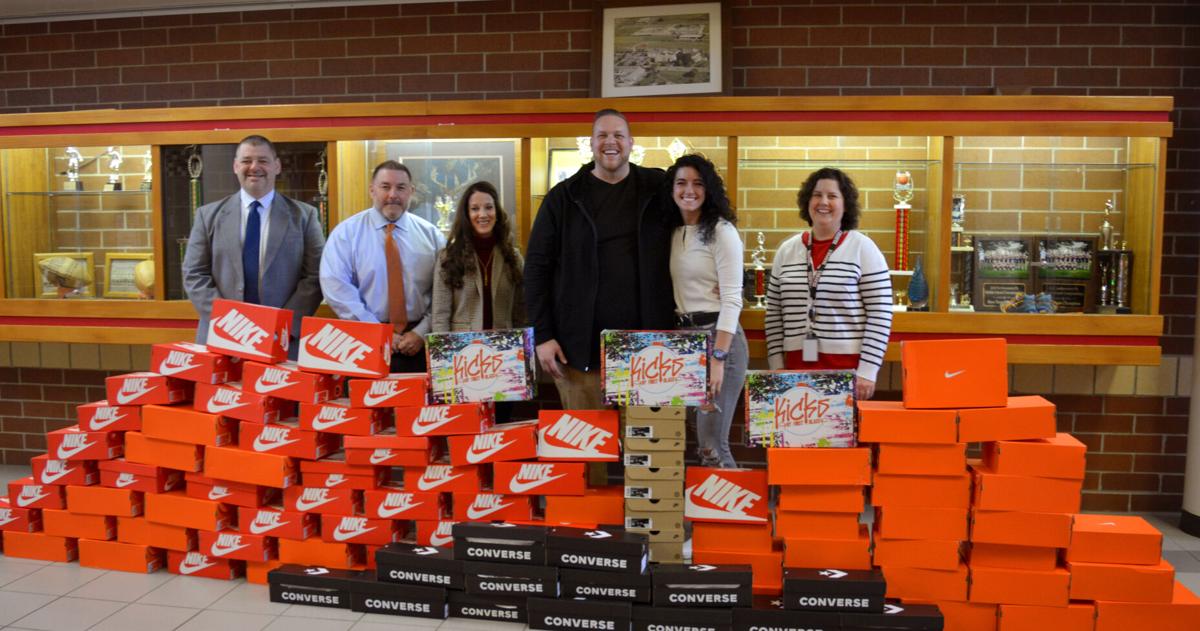 First Class Children's Foundation Donates Shoes and Clothing to DuBois Area Middle School | Local
DuBOIS — First Class Children's Foundation donated 100 pairs of new shoes and 50 "Blackout Boxes" to DuBois Area Middle School on Wednesday afternoon, marking the first donations to the "KICKS" and "Spirit Alive" programs by the foundation.
FCCF founder, Matt Reed, and his wife, Kim, worked alongside middle school staff to develop the two programs that were introduced to the school.
The FCCF donated 100 pairs of high-end Nike and Converse sneakers to distribute to students. The 50 Blackout Boxes are part of a new program called Spirit Alive, a collaboration between FCCF and DuBois Athletics to design special DuBois Beavers apparel.
All 50 Blackout Boxes were donated to the college clothes closet. Each box contains two high quality t-shirts, a solid color hoodie and an embroidered knit beanie. The public will also have the chance to purchase all four models featured in this first collection and the proceeds will be used to purchase more Beavers merchandise to fill the closet.
"So many people from here have been here, so it's a powerful brand, so we're just looking to use it to its full potential and inspire kids to wear clothes that signify how great this school is. awesome," Reed said.
Students from Kristie Taylor's eighth grade leadership class school helped build the boxes. Taylor worked alongside Reed to create the KICKS and Spirit Alive boxes for the middle school.
"Wendy connected Matt and me, and she knew I was interested in incorporating community service into my leadership class, so that's a great connection," Taylor said.
These two programs are the first designed by Reed to target older children.
"I'm just excited about this program because it's for older kids. Everything we do is so focused on elementary kids and imaginative boxes and school supplies and stuff that they're passionate about, but I think there's something about clothes and shoes that is really appealing for middle school and high school kids," Reed said. .
Shoes will be distributed first, with students randomly selected to receive a pair. Afterwards, Spirit Alive boxes will also begin to be distributed to students.
"I was really inspired to donate shoes by a conversation I had with Wendy Benton…We had talked about the things we normally give to kids because we donate all the boxes, books and school supplies," Reed said.
Benton told Reed about a student she saw whose shoes were falling apart, and when they went to the clothes closet, there was only one pair of girl's shoes in her size.
"I started thinking about how we could help and decided to start a shoe drive. We made an initial investment of about $1,500 in buying shoes, and then they all arrived and it still didn't seem like enough," Reed said.
Reed began asking for shoe donations online and eventually reached a goal of 100 pairs of shoes through donations. Inside each shoebox is a card with the name of the person who donated it and a slogan that reads: 'good shoes take you to good places' and on the other side , "consider this a trust box". Use that confidence to inspire positivity in our community.
"Having all these shoes here is impossible without the community supporting what we're trying to accomplish, which was to donate all 100 college shoes," Reed said.
Matt said giving away sneakers is something he and his wife appreciate.
"I always try to do things that would make me super happy if I was young," Reed said. "When I come up with a sneaker program, I'm like, 'How cool would it be to be in seventh grade and have a pair of these sneakers?'"
He said it's the same mindset he has with other FCCF programs, like the Imagination Boxes and the Book Vending Machine.
With the Blackout Boxes, Reed's hope is to keep the school spirit alive with some of the older students. He said whoever gets the boxes would be proud to have won the boxes, and that's another thing the school can use "as a tool to inspire the kids to really enjoy their time here".