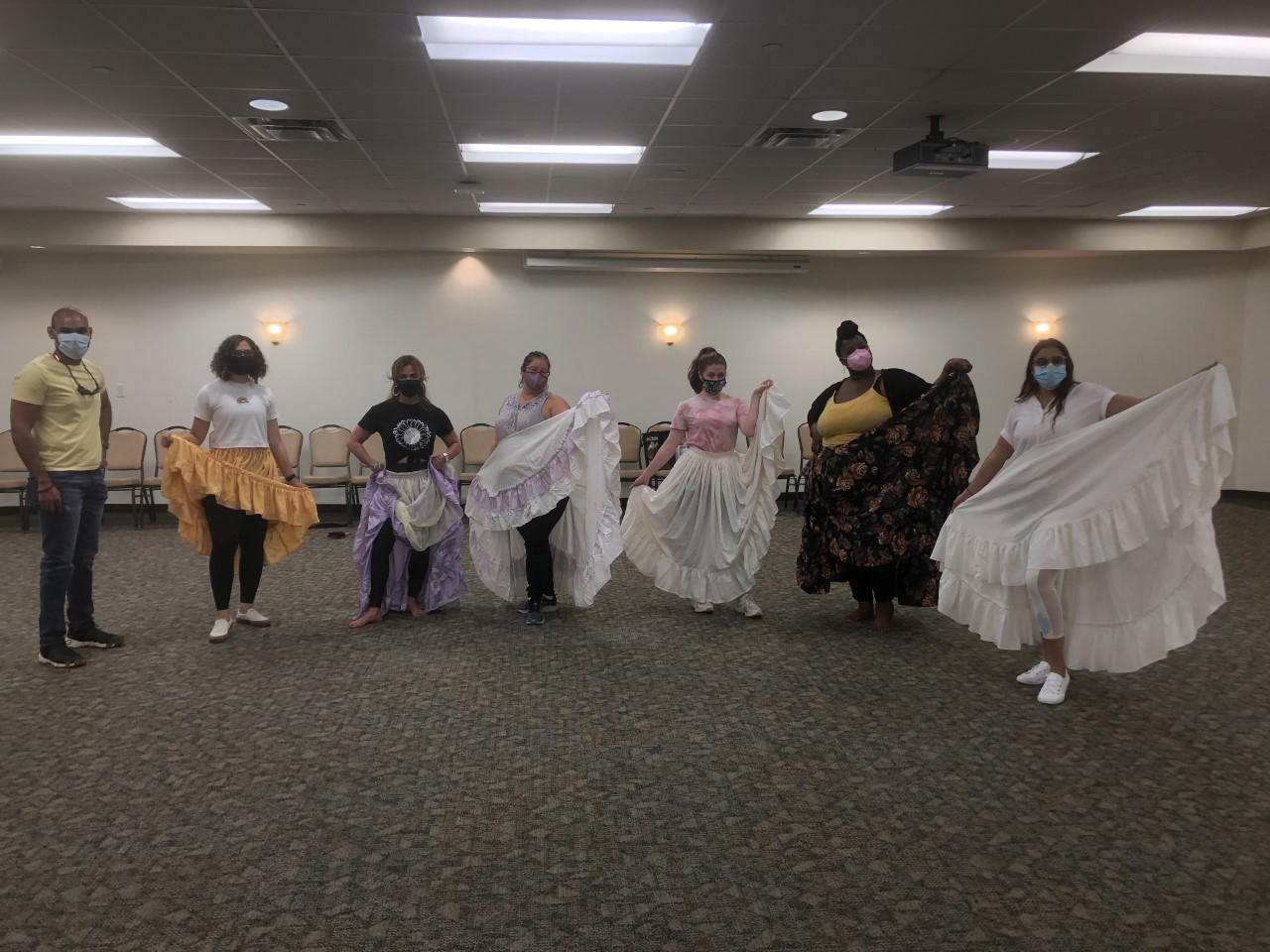 Intercultural Affairs celebrates Hispanic heritage with Bomba – The Parthenon dance workshop
To celebrate Hispanic Heritage Month, Intercultural Affairs presented a dance workshop on September 30 to learn about the "Bomba", an Afro-Puerto Rican dance at the Student Center.
Zelideth Rivas collaborated with choreographer Elia Cortés de Taller Tamboricua based in Rio Piedras, Puerto Rico for this event.
"The goal of this event is to have fun dancing and learn a piece of Puerto Rican history to celebrate Hispanic Heritage Month," said Dr. Rivas, the organizer of this event.
Students learned the history, rhythms and basic movements of Bomba.
"Bomba Music and Dance was born to allow slaves in Puerto Rico to dance and play music in their spare time. Said Doctor Rivas. "However, unlike most folk dances, the Bomba is special because the dancer composes music with their body and the lead drummer, the subidor, follows the dancer's movement. The dancers compose by accentuating their movements with a garment which is either their hat or their top of a skirt.
Other events will be organized to celebrate Hispanic Heritage Month in the coming weeks.
These include Dr. Araceli Hernandez-Laroche's presentation, "Collaborating Locally and State-wide for Greater Inclusion in Higher Education: Exploring the Key Pillars of Centro Latino de South Carolina »October 5 at 3:30 p.m. at Drinko Atrium, Beyond Taco Tuesday October 14 at 6:00 p.m. in the John Marshall Hall and Día de los Muertos (Day of the Dead) ofrendas October 28 at 2:00 p.m. in the Drinko Atrium.
"If you missed this event, the Recreation Center highlights the month in its Zumba classes taught by Emily Fankhanel every Monday and Wednesday from 7:30 pm to 8:30 pm. academic year, "said Dr Rivas.
More information on Taller Tamboricua can be found on their Instagram @tamborica or they can be contacted by email at [email protected].
For more information on upcoming Hispanic Heritage Month events, see the Office of Intercultural Affairs page of the Marshall University website.