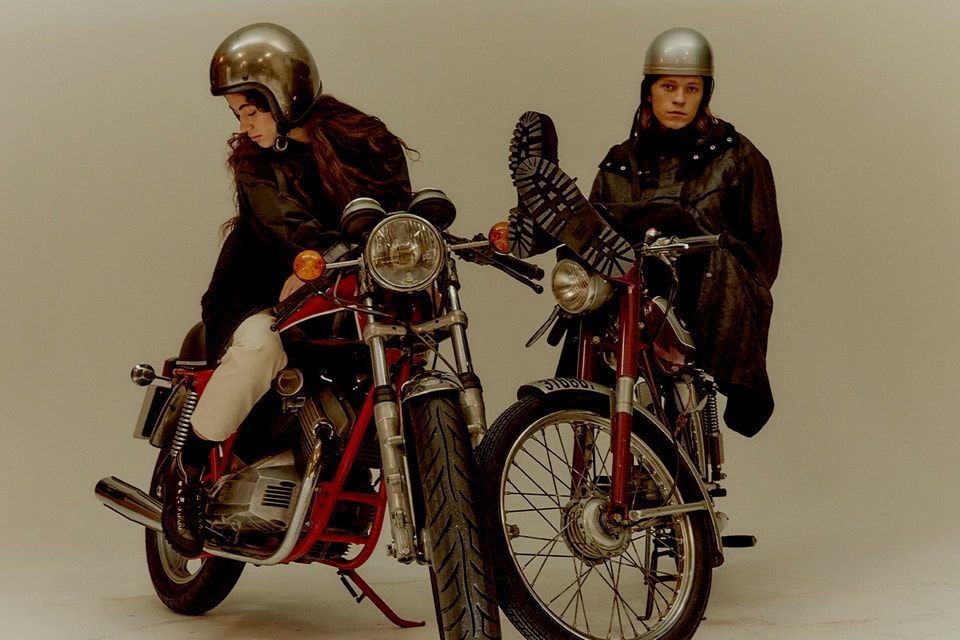 Interview of the YMC x Barbour International collaboration
British label YMC is steeped in heritage. Since its inception in 1995, Fraser Moss and Jimmy Collins have defined their brand through military-inspired workwear basics. The British pioneer has stood the test of time with quality craftsmanship and masterful techniques, while remaining relevant in the contemporary world with its collaborations – recently enlisting heritage sportswear brand Umbro for a rugby-inspired team.
Today, YMC presents its latest partnership, this time involving a proven English titan: Barbour International. The duo came together for a refreshed take on motorcycle apparel, clearly drawing inspiration from armed forces uniforms and workwear. The founders of YMC took it upon themselves to offer a fresh take on a few BI classics, from the 1951 wax motorcycle suit to the authoritative biker jacket. Digging through its extensive archives, the founders found a sense of influence in the 1950s Japanese motorcycle gangs known as Bōsōzoku. The members often wore custom jumpsuits, as well as oversized-looking leather ensembles. British biker subcultures alongside some quintessential classic films also make must-have nods throughout the collection.
A selection of three collaborative outerwear sits at the head of the range, featuring an oversized Rider waxed jacket decorated with a detachable hood and angled pockets, with an oversized fit for optimal comfort on wheels. A waxed cotton "So Not Up" waxed jacket and a "Dirt Gang" casual jacket also appear with a casual design for daily wear.
Crewnecks and hoodies feature a soft cotton construction, while pants, sport caps and drawstring pouches come in a variety of color options.
Speaking exclusively to Hypebeast, Ian Bergin, Director of Men's Fashion for Barbour International, says:
"Great collaborations, in my opinion, happen when the people in the brands have similar values ​​and the brands can learn something from the collaboration – which makes both brands a bit richer in the end for the experience.

Jimmy and Fraser of YMC brought that slightly quirky, counter-cultural, metropolitan edge and infused it with our motorcycling classics. The result is a Barbour International product that aligns with an attitude and attention to detail that is unique to YMC – which I think is refreshing and totally wearable and indeed collectible.

The imagery and perspective they brought to the collaboration are great examples of how an established and much-loved brand like Barbour International can still be true to its heritage, while continuing to be relevant and exciting. . Working with good people never goes out of style.
Diving deeper into the collaboration fueled by an exceptional story, Hypebeast sat down with YMC co-founder Fraser Moss to examine the development of the project, from humble beginnings to execution and delivery.
Hypebeast: Tell me about the process that led to the collaboration and how it came about.
Fraser Moss: We were approached by Barbour International for a collaboration a few months ago. I started the collection with a moodboard and a color palette. The next step was a visit to the South Shields factory where I worked closely with their design team on the various elements of the collection. We shared a similar design philosophy, the process was smooth throughout.
Why did you choose to work with a brand like Barbour International and what does it mean to you?
Barbour is an iconic British brand that is still a family business in South Shields (North East England) after 128 years in business. Barbour International originated in 1936 and was first launched as a motorcycling line; it's great to work with a brand that has that kind of deep heritage. When they came knocking on our door, the decision was easy to make.
What inspired you to create such a detailed line of quality clothing?
I went back to the origins of British cycling culture, in particular the Ton Up Boys of the 1950s. I then focused on films from the 60s that represented this movement, for example, Some people and leather boys. I was also inspired by European psychedelic comics about bikers, like A girl on a motorbike and the incredible pop art of Guy Peellaert. Finally, for styling purposes, I looked at the Japanese Bōsōzoku biker gangs – all of these ideas were then passed to the YMC mixer.
You've taken the classic motorcycle aesthetic of Barbour International and added the street style of YMC. How did you approach the collaboration on the design side?
As the old saying goes: if it ain't broke, don't fix it. My approach was more about tweaking and tweaking. I started by exaggerating the silhouette for a more casual feel, then took their classic bellows pockets and enlarged them to more comical proportions. I also wanted the garments to be versatile with removable liners that function as separate jackets. I lengthened the collar lengths and removed the traditional buckles to create a more minimal, yet functional design.
What was your main objective when you delved into the archives of Barbour International?
All I wanted was to have fun!
What do you hope consumers take away from the collaboration?
Hopefully they'll see this is a reunion of two British labels creating functional clothing with integrity.
Can we expect to see another project coming from YMC and Barbour International in the future?
It would be nice to continue this journey as I have bonded immensely with the Barbour International team. But only time will tell.
The YMC x Barbour International collaboration is now available online via YMC, Barbour International and at certain physical locations around the world.
Elsewhere, a new YEEZY GAP ENGINEERED BY BALENCIAGA collection is set to launch worldwide.