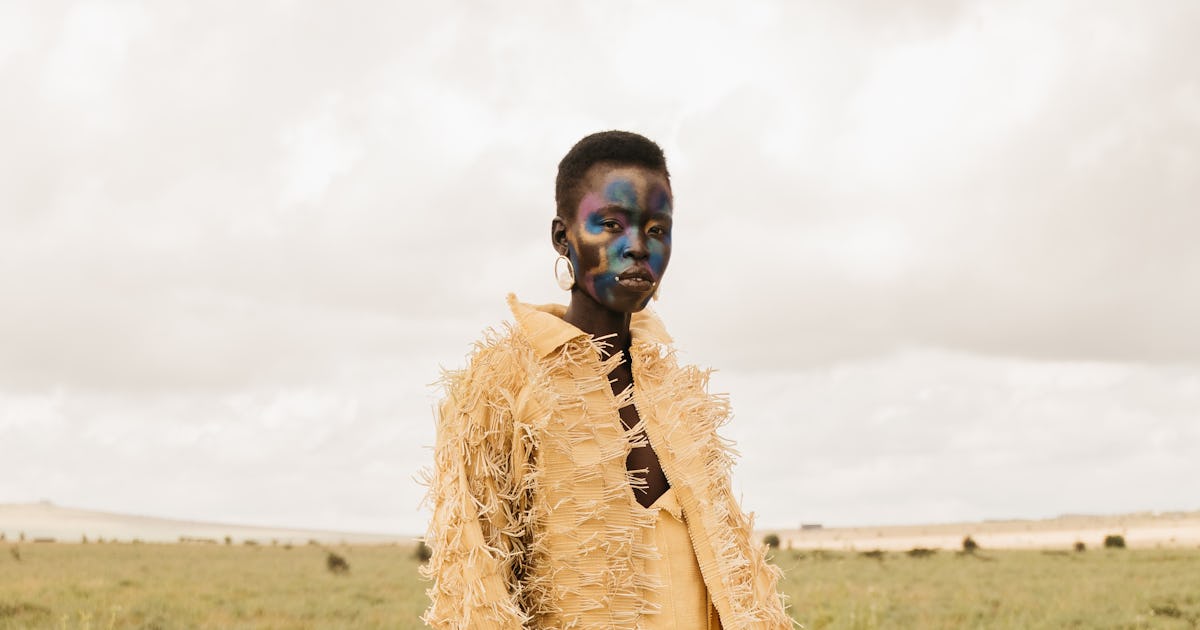 Meet the African designers finally getting their due at the new V&A exhibition
When Bubu Ogisi first received an email asking him to be part of the next Africa Fashion exposure opening July 2 at the Victoria and Albert Museum in London, she skipped it. "I was in the salt mines in Ghana, I was really busy working," the Nigerian designer explains in a recent slightly cracking Zoom call.
Ogisi—who is the founder of IAMISIGO, an ethically produced pan-African women's clothing brand dedicated to preserving and translating ancestral clothing-making processes, tends to disconnect when working on a new project. But after finishing talking with the curators and organizers of Africa FashionOgisi found herself eager to see the possibilities this show could provide for African fashion and its rich history.
"I've been to the V&A museum, and every time I go there, something is missing. And I guess that's the piece of the puzzle that finally gets added," says Ogisi.
Africa Fashion was curated to highlight the vibrant, layered and inventive history of African fashion alongside the global influence of contemporary African fashion. Ogisi is expected to show her work in the contemporary fashion section of the exhibition, alongside other designers of varied practices from across the continent, including Lagos Space Program, Imane Ayissi, Moshions, Thebe Maguguand Sindiso Khumalo.
A particular highlight of the African designers featured in this exhibition is the dedication to a practice of slow fashion that marries spirituality, history, heritage and a value for using our most immediate resources without causing harm. seriously to the sources of life from where these materials have been. taken. This exhibition also marks a turning point for African fashion, which has been booming on the world stage, especially in the last five years. Fashion week events are scattered across the continent, African designers from Orange Culture to Kenneth Ize and Thebe Magugu are worn by some of the most influential personalities in the world, and many of these creations win coveted global fashion awards and are stocked in reputable retail stores.
These recent advances in the African fashion industry make the exhibition a relevant study into the current state of fashion in Africa while giving an idea of ​​what the future might look like.
Curated by Dr Christine Checinska, Senior Curator of African and African Diaspora Textiles and Fashion at the V&A, Africa Fashion is set to exhibit over 250 objects, traveling across artistic mediums including clothing, photography, film, runway footage and editorial broadcasts. A number of the garments on display come from the personal archives of a selection of iconic 20th century African designers – Shade Thomas-Fahm, Chris Seydou, Kofi Ansah and Alphadi among them – marking the first time their work will be shown in a Museum of London.
This show will provide a comprehensive timeline of the evolution of African fashion on the continent; exploring vital themes such as the intersection of politics and social commentary with clothing, the place of colonialism and neo-colonialism in the language of African fashion, and the practice of drawing inspiration from different parts of the continent.
"We hope to give our audience a glimpse into the glamor and politics of the African fashion scene, a scene as diverse as the continent itself," says Dr Checinska.
Alongside Bubu Ogisi, Adeju Thompson, semi-finalist for the 2021 LVMH Prize and founder of the Lagos Space Program, will be presented in the contemporary section of the exhibition. Thompson, who describes the Lagos space program as a "genderless contemporary label exploring future multi-disciplinary collaborations," will showcase pieces and apparel from her 2021 collection, Project 5.
"Pieces in the collection include post-Adire, lab coats, dresses, post-Adire knitted tank tops, an Adire muse and white Yoruba trousers, which are a replica of traditional Yoruba work trousers," says Thompson. .
The 31-year-old designer, who draws inspiration from traditional Yoruba dress and ideas of gender and sexuality, is particularly interested in his offering at the exhibition offering a look at the history of homosexuality in Africa and highlighting brings to light a story that many consider non-existent.
Ogisi, who explains that this exhibition is linked to his philosophy of decolonizing spaces, will present selected pieces from his fall 2020 collection, titled Chase away evil. For this collection, which plays with recycled cotton and traditional Congolese raffia fabrics, she was inspired by the long time she spent in Congo working in refugee camps, mainly in rehabilitation centers for women victims of war. She wanted to use fashion as a form of protection, taking inspiration from deities and other historical figurines that were used to protect and ward off evil in the past.
Ogisi also exhibits pieces from its 2019 collection, desert gods– one that she says explores "monophonic relationships between masquerades and animals."
At a time when many parts of the African continent are slowly mending their previously unstable relationship with the preservation of history and proper documentation, this exhibition ensures that the lesser-known stories of African fashion are wrested from complete obliteration.