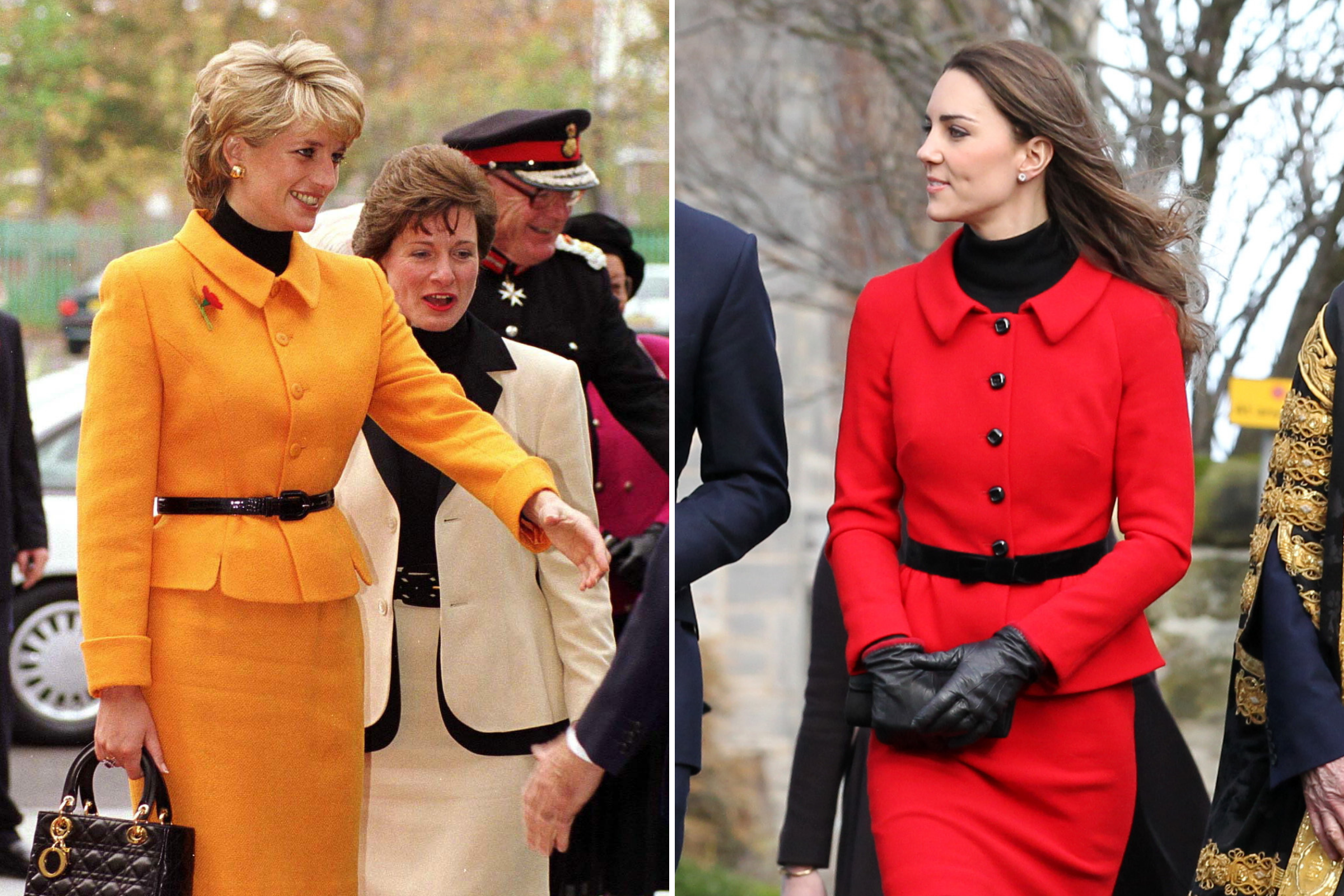 Princess Diana's work outfit adored by Kate Middleton: the skirt suit
From her marriage to Prince Charles in 1981 to her untimely death in 1997 at the age of 36, Princess Diana became one of the world's most recognizable women, cultivating a sense of style that still inspires today. modern fashion trends.
A staple of Diana's work wardrobe was the simple yet classic skirt suit she owned in a rainbow of colors in a wide range of textiles from silk to wool crepe.
Since marrying Diana's son Prince William in 2011, Kate Middleton has adopted the elegant skirt suit for official royal engagements and she's been aesthetically compared to her late mother-in-law time and time again.
Here, Newsweek look at some of Princess Diana and Kate Middleton's most stylish moments.
Princess Diana: Canterbury, 20 May 1995
After her split from Prince Charles in 1992 and more than 10 years in the public spotlight, Princess Diana had developed a taste for simpler, fancier clothes than had been the norm throughout the 1980s.
One of Diana's favorite designers and friends in the early 1990s was Gianni Versace. Many of her more recent skirts have been designed by Versace, inspired by the chic, streamlined style of former First Lady Jaqueline Kennedy.
Diana's milliner Philip Somerville, who created her famous pillbox hats, revealed after the Princess's death that she once asked her: 'Do you think people will ever think of me as the Jackie? Kennedy of my day?"
Versace designed this ensemble, worn publicly twice in 1995, as a pastiche of the infamous pink Jackie Kennedy suit she wore the day President John F. Kennedy was assassinated in 1963 and Diana wore it with a pink Somerville pillbox to complete the tribute.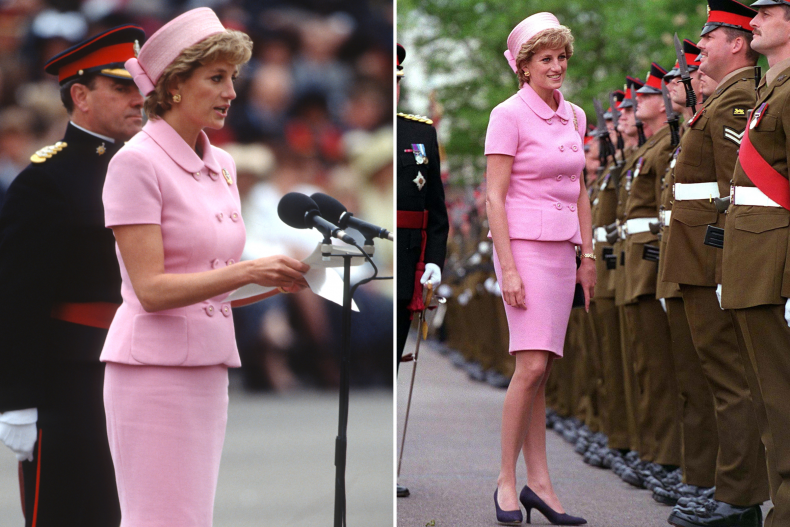 Princess Diana: Liverpool, November 7, 1995
This orange wool skirt suit was also designed by Versace, and Diana wore it at Liverpool Women's Hospital, Merseyside in 1995.
The elegant suit was worn with contrasting black accessories, including a Lady-Dior handbag and a black leather belt.
To elongate the silhouette of the outfit, the princess wore a high-necked black sweater under the costume and opaque black tights.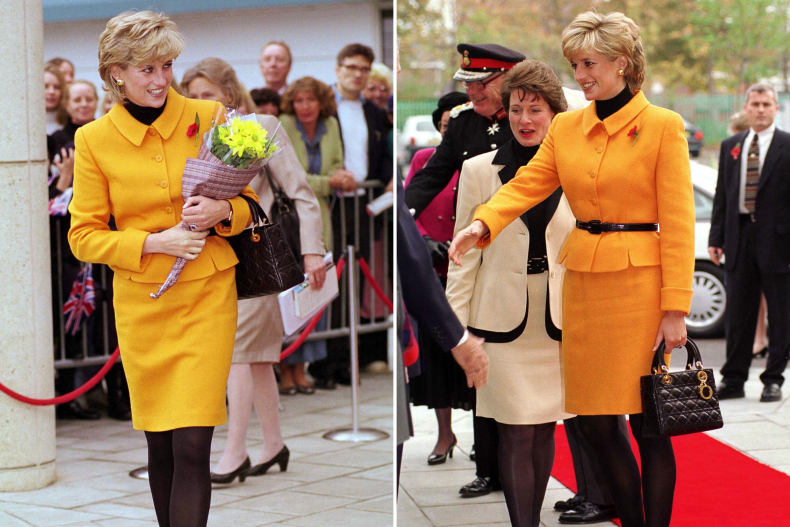 Princess Diana: Savoy Hotel, March 19, 1997
This delicate pink suit with mother-of-pearl buttons was designed by one of Princess Diana's favorite designers, Catherine Walker.
The skirt and jacket combination was worn with leather accessories in neutral tones to daily star Gold Awards at the Savoy Hotel in London.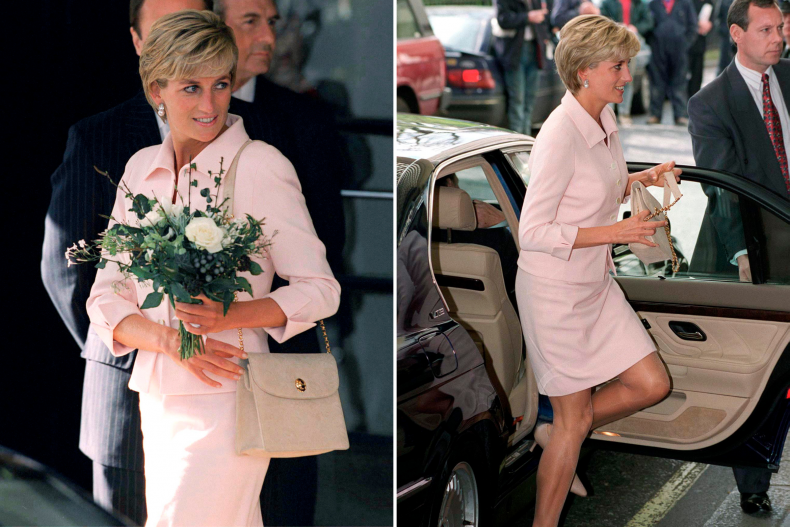 Princess Diana: British Lung Foundation, 21 April 1997
Following the Princess's divorce from Prince Charles in 1996, she strayed from her established trend of buying the majority of her clothes from British designers. One of the fashion houses she began to frequent regularly around this time was Chanel.
One of the princess's favorite Chanel pieces was bought in the last year of her life and worn on several occasions, including at a British Lung Foundation event and at Prince William's confirmation at the castle of Windsor.
The blue bouclé tweed suit from the house's Spring/Summer 1997 collection follows the famous line of suits introduced by Coco Chanel in the 1950s when she reopened her fashion house after World War II.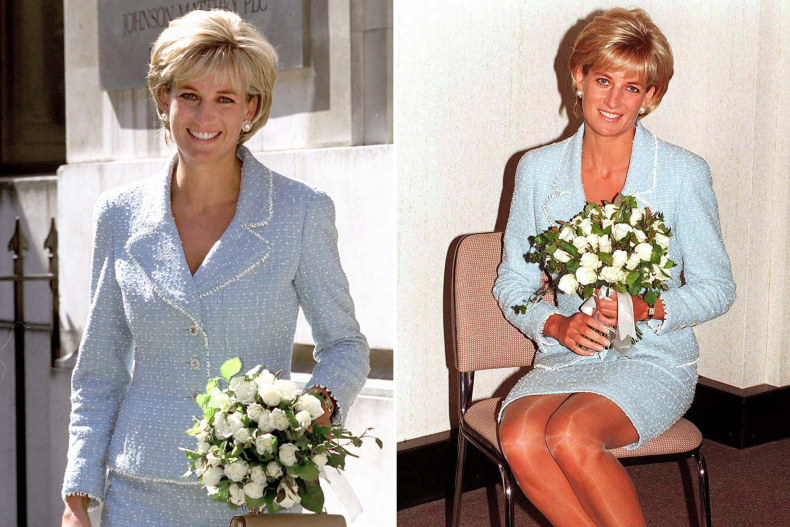 Princess Diana: Washington, June 17, 1997
During one of the last overseas work visits of her life, Diana wore a number of Versace outfits, including this flatteringly simple suit in purple crepe.
The Princess wore this costume to deliver an anti-mine speech on behalf of the American Red Cross in Washington.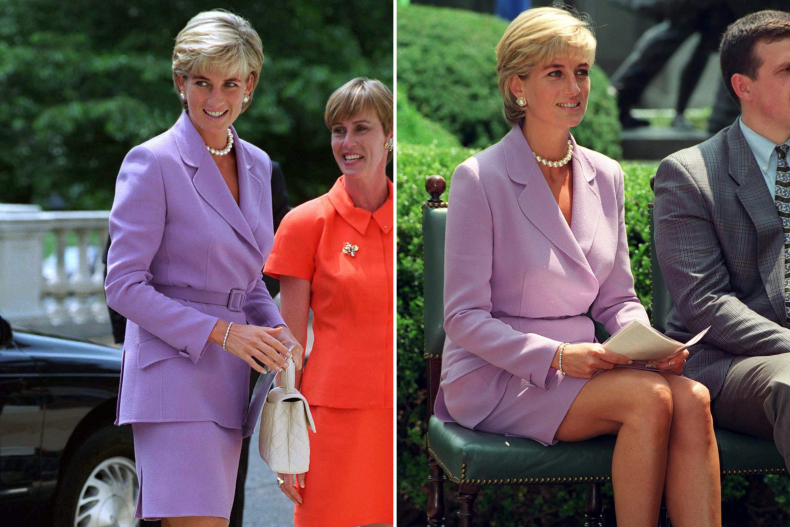 Kate Middleton in St Andrews, February 25, 2011
As Princess Diana's first daughter-in-law, many comparisons have been drawn between Kate Middleton's fashion choices and those of the late princess.
From time to time, Kate made a direct reference to Diana through her clothes and in 2011, just months before her April wedding to Prince William, the couple paid a joint visit to St. Andrews in Scotland where they are encountered.
For the occasion, Kate wore a bright red wool suit, worn with a black jumper and accessories. This outfit was a close replica of Diana's orange Versace suit worn in Liverpool in 1995.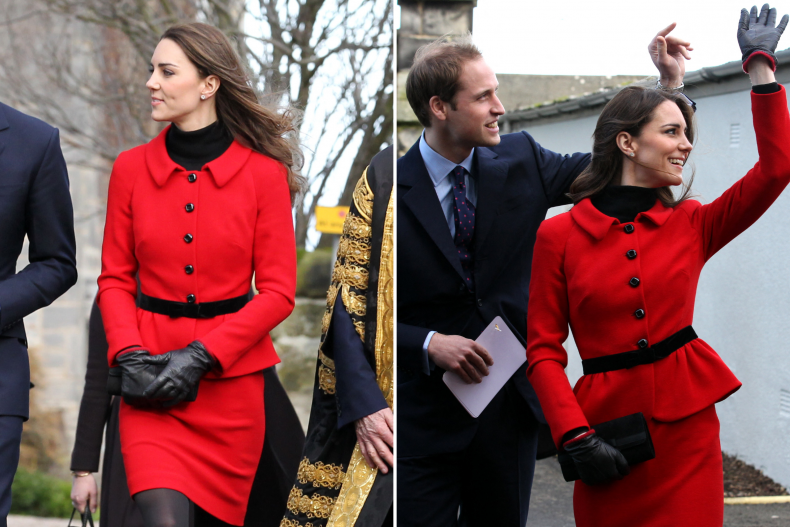 Kate Middleton: Netherlands, October 11, 2016
In 2016, with Kate having had five years of royal duties under her belt, she embarked on a solo visit to the Netherlands where she was received by King Willem-Alexander.
For the occasion, Kate chose a skirt suit which was commissioned from Diana's favorite designers, Catherine Walker & Co. The delicate ice blue color of the suit paired with the perfectly fitted jacket combined to create a striking image of a future queen as she embarked on a solo trip overseas. round.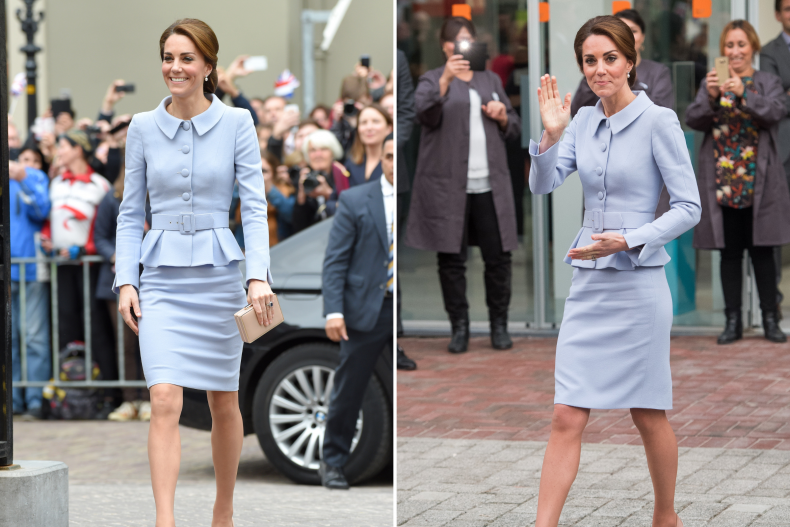 Kate Middleton: World Academy, April 20, 2017
In 2017, Prince William, Prince Harry and Kate Middleton all attended the opening of the Global Academy, a school that trains students to work in the broadcast and digital media industries.
On the day of the event, Kate wore a bold red skirt suit by diffusion label Giorgio Armani Armani Collezioni. The suit jacket featured pleat work on the bodice and the center front sported an invisible zipper.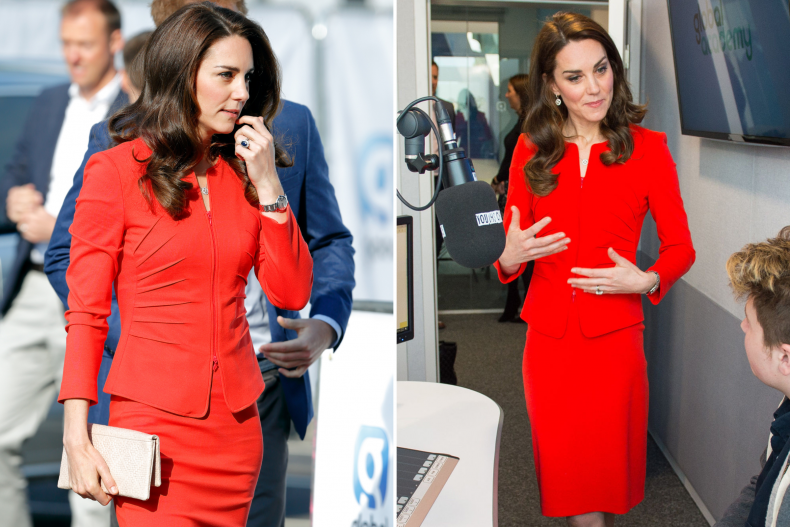 Kate Middleton: EVERY visit to the hospice, November 15, 2019
For a visit to a children's hospice in 2019, Kate Middleton wore a bright purple woolen skirt suit from designer Oscar de la Renta's Fall 2015 collection. The Duchess has worn the costume on several occasions after debuting it in 2017 for the UK Guild of Health Writers conference.
The 1940s-inspired suit follows Christian Dior's "New Look" and the jacket features a small peplum and contrasting black buttons.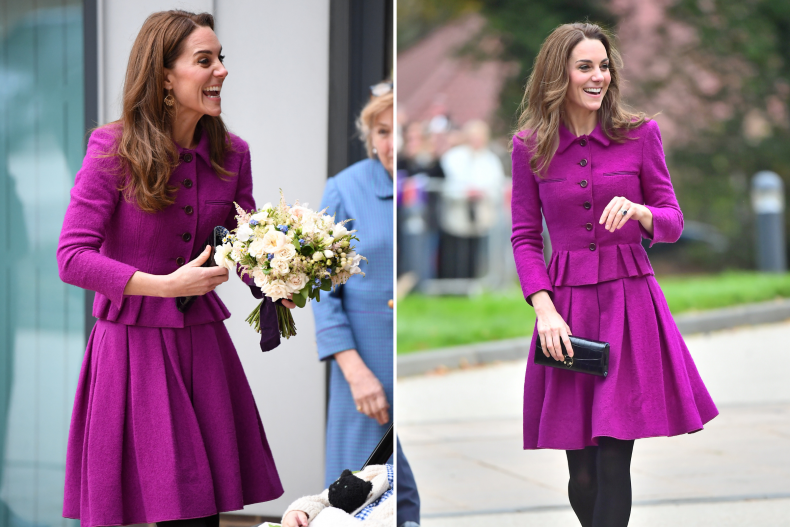 Kate Middleton: engagement with Princess Anne, April 27, 2022
For a rare joint engagement with Princess Anne in 2022, Kate wore a beige long-skirted suit by Self-Portrait.
The design of the outfit was particularly fitting for the occasion as the royals were visiting the headquarters of the Royal College of Midwives and the Royal College of Obstetricians and Gynecologists of which the royals are respective patrons.
The lace pattern on Kate's skirt suit jacket closely resembles a pineapple, which as a symbol has been embraced by women who struggle to get pregnant.