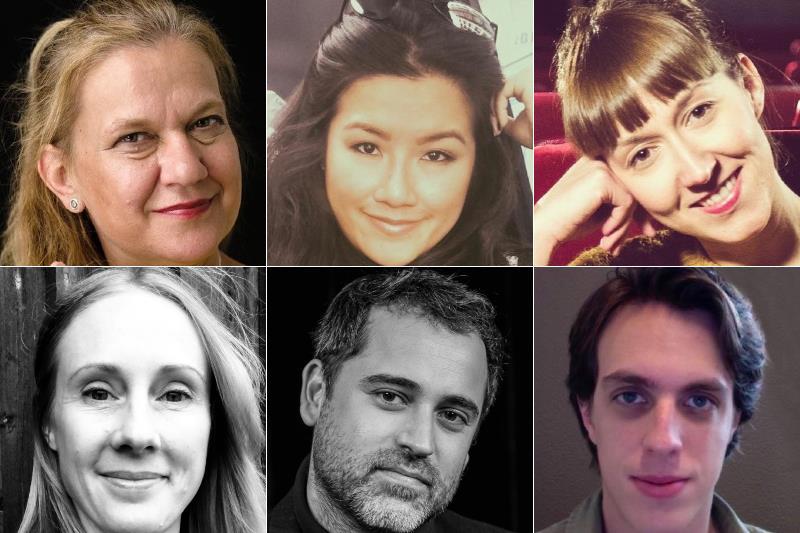 Six International Producers Talk About Their Hot CineMart Projects | Characteristics
CineMart, the co-production market of the International Film Festival Rotterdam (IFFR) is taking place online this week. Screen talks to six participating producers about their plans and what they hope to achieve at the event.
Mary Kjellson, I love #NoFilter
The Swedish Marie Kjellson is the producer of I love #NoFilter, a provocative version of a romantic comedy, written and directed by Mikael Bundsen. It will explore the choices people make to be monogamous or polyamorous.
Having been part of the Rotterdam Producers Lab in 2012 and a participant in CineMart with Ruben Östlund's Player and force majeure,Kjellson knows what she's looking for.
"Our goal is to connect with Western European co-production partners who would be interested in creative as well as financial collaboration," says Kjellson. This means companies interested in developing talent and long-term collaborations.
With a budget of €982,000, the film has just under €200,000 in addition to development funding from the Swedish Film Institute, co-production development investment from Film i Väst and funding Swedish regional.
Kjellson aims to reach international sales and distribution partners with an eye on young audiences. "As the film features several YouTube and social media elements, we are really interested in unlocking the potential of social media marketing with this film and already have some ideas," she says.
The project is at the end of development by the team of producer Kjellson & Wik. Bundsen and Kjellson have already started casting and identified potential candidates for lead roles. Although this is her first digital version of CineMart, she is confident that it will be more efficient and successful than ever. "CineMart is an amazing platform and networking hub for all of our international meetings, it's a one stop shop for all market needs," notes Kjellson.
Giancarlo Nasi, three dark nights
Three Dark nights (Tres noches negras), is Chilean producer Giancarlo Nasi's second collaboration withh The Chilean-Spanish filmmaker Théo Court, after the Silver Lion of Venice White on white.
Written by Court, it is a murder mystery tale, detailing the story of a peasant in central Chile, a moonlit pact with the devil, and a corpse.
The $1 million project is produced by Santiago-based Quijote Films with Canarian outfit El Viaje Films.
"The film takes us back to Théo's first feature Ocaso which premiered at the Rotterdam Film Festival ten years ago," says Nasi. "Both films are inspired by Theo's childhood and his intimate connection to his hometown."
Nasi says they are taking a risk developing a script with strong genre elements of mystery and film noir. "We are curious and excited to see what the market reaction will be."
This is Nasi's first time at CineMart after taking part in other co-production markets at the Berlinale, L'Atelier in Cannes, San Sebastian and Tallinn. For three dark nightsNasi aims to secure global partners to support further writing and research before filming in locations already identified in Chile.
"It's been an amazing experience for us to know that at CineMart, the work isn't exclusively focused on the market week," says Nasi. "It has been a rewarding chance to continue to develop the project with professionals from all over the world."
Daniel Peche, golden mother
Brazilian Daniel Pech attends CineMart for the first time with a mother-son drama Golden mother. It will be Madiano Marcheti's second feature film and is based on an original screenplay by Marcheti and Luis Cotinguiba. Budgeted at €850,000, Pech spends at the start of 2022
set up the financing of Portuguese-language feature films in Brazil before embarking on the application for international film funds in the second half of 2022.
He hopes CineMart will introduce him to potential co-producers. "[CineMart] is a great label to have on the project to help it get into the labs and receive funding," says Pech, who produces through his Multiverso Produções, with local co-production partner Terceira Margem.
"It feels like the selection is based more on the artistic qualities of the projects than on the market, which is great," he says of his selection.
Marcheti's film unfolds like a twisted fable, inspired by a Brazilian myth that gives the film its name. Legend has it that a shining figure flies through the forest, avenging women abused by their husbands and attacking prospectors to protect the gold hidden in the rainforest.
The first draft of golden mother won the €5,500 main development prize at the Meet Brazil CineMundi international co-production competition last year.
Marcheti's beginnings Madalena premiered in competition at IFFR 2021 before winning Best Film at the Istanbul International Film Festival and screening at festivals like the San Sebastian Film Festival.
Rea Rajcic, Leave the door open
Leave the door open is a $900,000 ensemble family drama, set entirely in an Ikea furniture store in Zagreb, written and directed by Judita Gamulin.
"Developing a feature film set entirely in an Ikea store with a new female director's voice and being a producer based in Zagreb, Croatia, in the heart of Southeastern Europe, makes you think you really have to team up properly ", declares the director of the film. Croatian producer Rea Rajcic, who produces through her film and television company Eclectica.
With early support from the Croatian Audiovisual Center (HAVC), Rajcic's goal is to close funding in 2023 and shoot in 2024.
"We decided that the best possible end to this phase would be to come to CineMart and try to find partners, preferably from Scandinavian countries, with a solid commercial agent", explains Rajcic.
This is his first time at CineMart, having been part of the Rotterdam Lab in 2020.
"CineMart is a great opportunity to test our project in front of a very large and international audience and to meet producers and other industry experts outside of our regional circuit ex-Yugoslavia", she explains. "That's precisely what we need for this high profile project which will be a charming cinematic study of family relationships in a place everyone can relate to."
Gamulin, who has worked extensively in theatre, also participates in the Cinéfondation Résidence de Cannes, after having developed the screenplay through First Films First by Goethe institute and MIDPOINT Feature Launch.
Adam Solomon, Sorella Di Clausura
Sorella Di Clausuraa feature film project based on the forthcoming novel by Liliana Pelici The longest dream, tells the story of two women whose very different worlds collide following an accident during a music concert. Adapted for the screen by Ivana Mladenovic to direct, leading Romanian producer Solomon presents the €2 million project at CineMart
"We're curious to see if we're able to transfer our passion and interest in this story to potential partners and first-class attendees attending CineMart," says Solomon, who produces with Diana Caravia.
Solomon knows his way around CineMart having attended many times in different capacities – as an observer at the start, a participant on several occasions and as a member of the jury in 2021.
"The meetings I had at CineMart, not only with potential partners for my projects, but also with other filmmakers, made my start to the year more optimistic and passionate about the art and craft of cinema" , says Solomon.
Based in Romania, Solomon is producing the script in Romanian, Serbian and English through Bucharest-based collective microFILM.
Sorella Di Clausura will mark the third feature film by actress, screenwriter and director Mladenovic after Soldiers. History of Ferentari in 2017 and Ivana the Terriblewhich won the Special Jury Prize at Locarno in 2019.
Solomon's most recent credits include Radu Jude's Berlin Golden Bear winner Bad luck knocking or goofy porn.
Yvette Tang, The Beautiful Normal
The Beautiful Normal is a psychological family drama set in Hong Kong, written and directed by veteran filmmaker Flora Lau. Produced by Neon Beam Films of Hong Kong, Lau's film will shoot in Cantonese Chinese and English.
Tang is attending CineMart for the second time in her career. Zooming into the market will allow him to connect with "reliable and resourceful producers, distributors, sellers and other potential partners who are also creative, fun and dedicated".
The objective is to consolidate majority funding for the €2.7 million project currently under development. Tang and Lau hope to "together bring this enjoyable but meaningful project to the world" with CineMart the key to international ambitions.
"Flora Lau and I always enjoy working with international partners with similar mindsets," says Tang.
Lau's first feature film Elbows had its world premiere at Cannes Un Certain Regard in 2013 before screening at festivals including Toronto, Busan, BFI London, Melbourne, Stockholm and Sao Paulo. She wrote, directed and produced her second feature film Luz with Isabelle Huppert, Guo Xiao Dong and Huang Lu in 2016. This film was shot in Paris, Chongqing and Hong Kong.
"CineMart has always been an ingenious platform for us to meet experienced mentors and industry contacts from different regions," says Tang.
Tang notes that CineMart is "particularly valuable when we need to efficiently source, locate and confirm international partners for a project. It saves us a lot of time and effort not to knock on the wrong doors. »