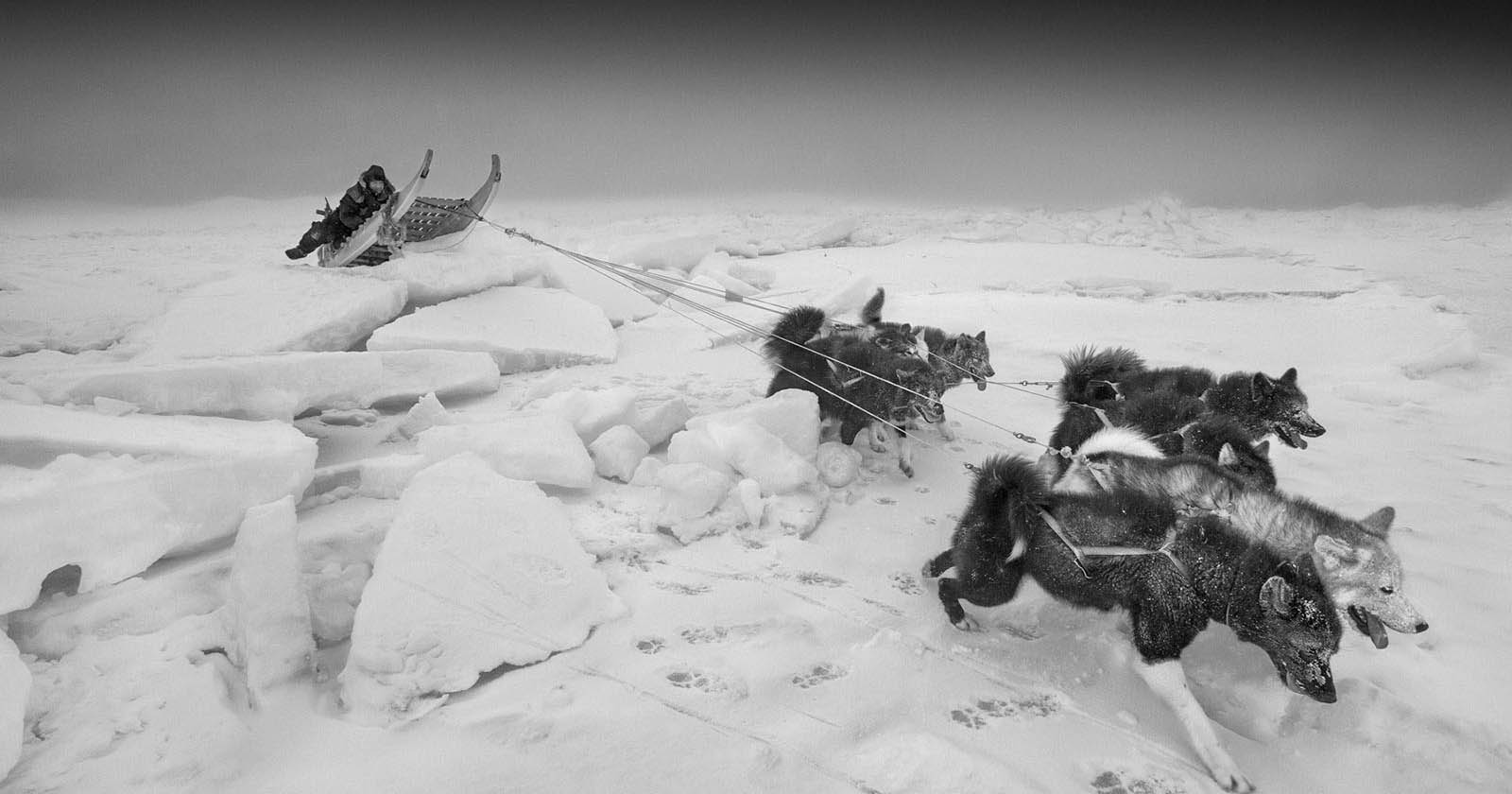 Striking black and white photos capture life in a melting Arctic
Ragnar Axelsson is an Icelandic photographer who has worked in the freezing Arctic for over 40 years and documents breathtaking images of the desolate landscape and its inhabitants.
Axelsson's austere black and white photos document the difficult lives of humans and their sled dogs in various Arctic countries and its extreme environment.
Unprecedented climate change of late has made this area more unfavorable for humans and wildlife, with the worst to come from excessive carbon consumption far, far away from their small villages – something they don't care about. have no control. This made Axelsson more concerned with documenting the changes.
Mechanical cameras do not stop easily in winter
" The first years [of photography] were all on film, and I still use film cameras with digital cameras," says Rax, as his friends call him. "I use digital more today because it has excellent quality files.
"I love shooting on film cameras, and sometimes they take over when the batteries run out from the cold. What has changed in my photography is realizing more and more how important it is to document life in arctic countries. Photographs can have a significant impact on people and have already opened people's eyes and will continue to do so in the future.
The pleasure of black and white photography
Axelsson (b. 1958) likes to photograph in black and white because he grew up in the darkroom of his house. There is a special moment when a photograph comes to life in a darkroom, although the real magic moment is when the shutter freezes a moment in life forever. Black and white photography, he believes, leaves something to the imagination behind.
The photographer currently shoots with a monochrome Leica M10 and has been using monochrome Leicas for a few years. Its other camera is the Leica SL (Typ 601) alongside 21mm to 90mm lenses. He almost never uses long lenses.
Axelsson has also photographed in Latvia, Lithuania, Mozambique, South Africa, China and Ukraine, working as a photojournalist at Morgunblaðið (1976 – 2020), an Icelandic newspaper.
"It was difficult to photograph in Latvia, in Lithuania when I was there," recalls the photographer who has published eight photo books in various international editions. "It was under the circumstances where there was a possibility of being shot down. The Arctic is a battle against extreme cold, and the only battle is to fight against that cold and be careful. Nature can be unforgiving .
"I decided to photograph the Arctic after being in Africa and thinking, oh, every photographer on the planet is here taking the same photo. I have to go somewhere else, and I started doing it there almost 40 years ago, and you are starting to like arctic countries and the cold.
"Life in the Arctic will be the biggest problem on the planet for years to come. It needs to be shown to the world, and I hope to open people's eyes to the drastic changes affecting everything on our planet.
Inspiration from other photographers
"Many great photographers have inspired me over the years," says Axelsson. "W. Eugene Smith is one of them, Henry Cartier-Bresson, Don McCullin, Mary Ellen Mark, to name but a few. They have all done great things that have opened our eyes to life on our planet. It is essential to do this more than ever.
Photographer Mary Ellen Mark wrote the foreword to Axelsson's book, Faces of the North, which captured around 100 stark and powerful images of Greenland, Iceland and the Faroe Islands, taken over two decades.
"Mary Ellen was a wonderful woman," Rax recalled. "She passed away in 2015 and we miss her very much. Mary Ellen was a great inspiration for my photography, a great friend and one of the greatest photographers of all time. I was in his studio in 1985, where we first met and became close friends.
Preserving the legacy of thousands of years
In some cities, residents have replaced their animal skins with Gore-Tex clothing, snowmobiles for dog sleds and even guns for traditional harpoons.
"It makes it easier for them," says the inveterate photo explorer. "In some villages in Greenland, such as Thule [old name for Qaanaaq], they still use traditional skin clothing and use dog sleds and kayaks. They want to keep their heritage alive. How long this will last, no one knows.
Why do some natives still prefer sled dogs to snowmobiles?
"Dogsledding never fails," says Axelsson. "Snow vehicles can go fast and cover a long distance in a short time. It's a long walk to safety in extremely cold conditions if anything [mechanical failure] come. Dogs never fail, and if they've made a route once, they know the way back [even in the worst of visibility and weather]."
Axelsson's Photobook Arctic Heroes: Tribute to the sled dogs of Greenland is a celebration of the locals best friend. This is a time when the melting ice cap is disrupting an 8,000-year-old traditional way of life (that's the lifespan of sled dogs) of the Inuit, the indigenous peoples inhabiting the frigid regions of Greenland, Canada and Alaska.
The heroes of the Arctic, in my mind, are the hunters, the dogs, and the people living above the Arctic Circle. Their lives are changing because of the melting sea ice. The book we did was a tribute to the sled dog, which is in decline, and to hunters. There were 30,000 dogs ten years ago; now there are 11,000. The hunter and his dog are true arctic heroes who have been battling the elements to survive for hundreds of years. There are more arctic heroes living above the arctic circle in the 8 arctic countries. — Ragnar Axelsson
The risks of photographing in extreme cold
Adjusting camera dials is always tricky with gloves on, and last winter Axelsson briefly took off his gloves to perform a camera adjustment – ​​a big mistake that the photographer always pays for.
"My right thumb is fine, [but] it's numb and I have to be careful when it's below zero," he says. "It hurts a little every day, but I'm getting used to it. It just froze [and turned black] on the ice floe in Thule when I was photographing in extremely cold weather and strong winds. It was my stupidity in excitement to take a picture of a hunter on the ice floe, the sun was setting and darkness took over. It was a struggle to get home in the storm.
Polar winters are bleak with twenty-four hours of darkness. It's not until the Northern Lights dance across the sky that they light up a bit, and the photography for Rax comes into play.
There is an ongoing 3 year project to make a book of the 8 Arctic countries, although COVID has slowed it down. In March, the photographer, raised on a remote farm in southern Iceland, leaves for Siberia and will complete all his travels within the next two years.
Axelsson is optimistic about the future but seriously worried at the same time.
"Important changes are happening in the Arctic countries; the pack ice isn't as safe as it used to be," Axelsson laments. "Hunting communities are closing their doors. Hunters are fewer and fewer and traditional hunting is declining.
"The younger generation is not focused on being hunters; they will live a different life in the future," says Axelsson. "The tundra is melting and there could be drastic changes in the years to come. Documenting life on our planet is important, and all eyes will be on the Arctic for years to come. The people who live there have a chance to survive in harmony with nature.
You can watch Axelsson's interactive show Where the World is Melting which takes place at the Versicherungskammer Kulturstiftung (an arts foundation) in Munich. You can also find more of his work on his website and Instagram.
---
About the Author: Phil Mistry is a photographer and teacher based in Atlanta, GA. He started one of the first digital camera courses in New York at the International Center of Photography in the 90s. He was director and teacher of Sony/Popular Photography magazine's Digital Days workshops. You can reach him here.
---
Picture credits: All photos by Ragnar Axelsson