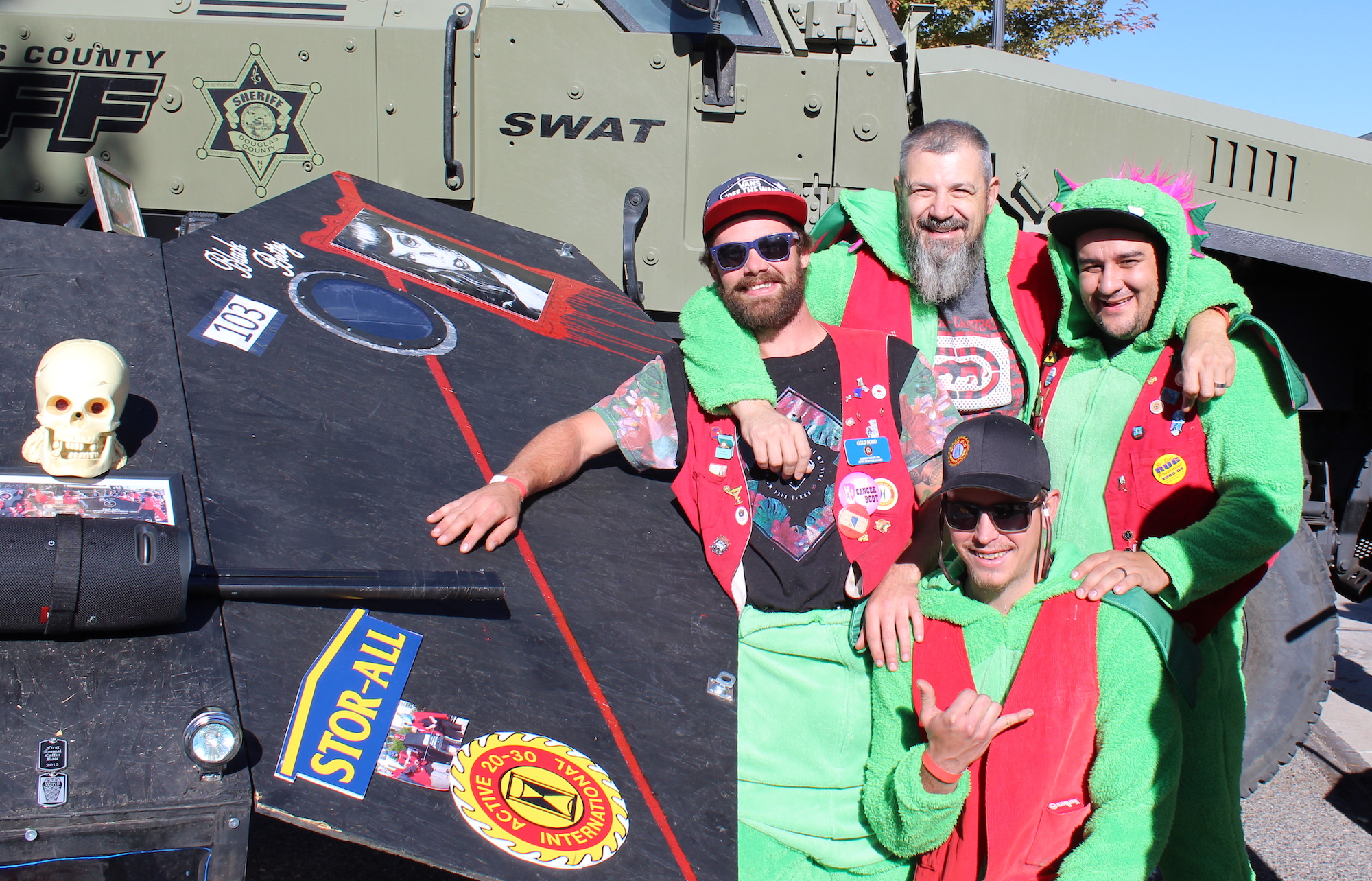 The autumn breeze blows in the fall festivities
The Store-All team poses for a photo with their entry into the casket race at the 2019 Fall Festival. The Gardnerville company is celebrating 50 years of existence.
Photo by Kurt Hildebrand.
The leaves are turning and the breezes are cool, it's that time of year for coffins, scarecrows and a good scare.
Main Street Gardnerville kicks off the season with the return of its annual Fall Festival with the Slaughterhouse Lane Coffin Run and the Scarecrow Festival from 9 a.m. to 3 p.m. Saturday at Heritage Park.
"Our event last year was unfortunately canceled due to meeting restrictions," said Jen Nalder, Main Street Gardnerville media contact. "This year, we really can't wait to bring it back and provide a fun, free community event that the whole family can enjoy."
Nalder said the Casket Races at Main Street Gardnerville's Slaughterhouse Lane is an annual event that dates back to 2015. The teams consist of a team of five; four "porters" and a "driver".
Coffins shouldn't be anything other than "Bare Bones" as long as they can run.
Main Street Gardnerville will host over 30 local vendors and nonprofits with special performances by local musicians, Mo's Motley Blues, Jakota Wass, Mikie Rae, NV Order 66 and False Rhythm Reggae Band. Local talent from Dance Workshop, All About Dance, The Basquitos-Basque Dancers and Northwest Martial Arts will also provide entertainment throughout the day.
The Carson Valley FFA features a petting zoo during the event, and the Heritage Park Gardens will be open with a full day of kid-friendly activities, including creatures in corn and rock painting. Back in the park, get creative and build a life-size scarecrow with the East Fork Gallery. "We are proud to have combined our efforts with the East Fork Gallery, which hosts its annual Scarecrow Festival, to create a community event that now offers a local vendor market and a day filled with music and artist entertainment. premises, "Nalder said.
The East Fork Gallery has hosted the annual Scarecrow Festival for over 30 years in the Carson Valley.
"The Scarecrow Festival is a favorite Carson Valley event, often attended by loyal customers and many generations, often attracting adults who attended as children, bringing their own children and grandchildren," said Janis Powell, East Fork Gallery Fellow and Artist. "Regardless of its traditions, it's a most enjoyable event.
The East Fork Gallery, which is now celebrating over 40 years in Gardnerville, collected clothing and created scarecrow kits for the event. Each kit costs $ 20, which includes the padding, clothing, and faces to create a life-size scarecrow to display throughout the season.
Registration for the Coffin Race starts at 9 a.m. with the parade of coffins at 9.45 a.m.
The Coffin race will take place from 10 a.m. to 12 p.m. and awards ceremony at 12:30 p.m.
Registration for a coffin team is $ 50. To enter a team, go online to the Main Street Gardnerville website or bring cash or a check on the day of the event. The Coffin registration kiosk is located on Ezell Street, near the Gardens of Heritage Park.
Costume Shack from Tahoe Youth & Family Services will be at Fall Fest this year.
"Take advantage of the event, choose a repurposed costume and donate to support mental health and individual and group mental health and addiction counseling for children, youth and families," said Cheryl Bricker , President of the Tahoe Youth and Family Services Council.
For more information, call 775-782-4202 or visit www.tahoeyouth.org.
Main Street Gardnerville is a 501c3 non-profit organization whose mission is to revitalize downtown Gardnerville by using design, organizations, promotions and neighborhood vitality to develop the unique identity and preserve the historic nature of our community. For more information, visit www.mainstreetgardnerville.com