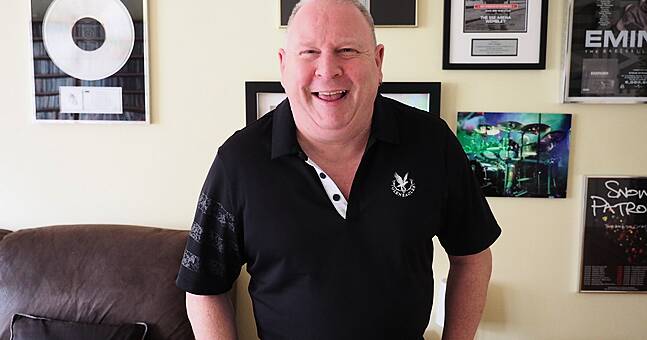 The legendary Irish agent of Snow Patrol and Eminem Steve Strange (1968-2021) has passed away
The terrible news arrived on the mojo wire tonight that legendary rock 'n' roll drummer, manager, agent and bon vivant Steve Strange of X-ray Touring has passed away.
Steve Strange has passed away. It is with great sadness that Hot press learned this evening of the loss of one of the most important and influential figures in the Irish music industry. Steve was one of the founding partners of X-Ray Touring and was the agent for many major bands, including his compatriots Northerners Snow Patrol and Eminem.
A statement was released by X-Ray Touring tonight which confirmed the devastating news.
"X-ray Touring is deeply saddened to announce that Steve Strange, one of the agency's founding partners, has passed away from a brief illness," the statement said.
"We have lost a legendary figure in our personal and professional lives who will be dearly missed by all of us.
Steve was a unique person within our industry, his overwhelming love for music led him to a career spanning over 30 years guiding the tour of an eclectic mix of artists from all genres of music he adored. .
"A universally known, extremely respected and loved character – if you hadn't seen him at a concert or festival before, you would most certainly hear his infectious and infamous laughter.
"Steve had the best ears in the agency business," the statement continued, "signing and developing the careers of countless world-class artists, from small clubs to large international multi-stage tours.
"He will always be lovingly remembered by his friends and colleagues at X-ray and around the world."
Steve Strange was originally from Carrickfergus in Northern Ireland. He began his musical career as a drummer in the hard rock band No Hot Ashes, which has become one of the brightest prospects in the northern rock scene.
He started his career as an agent at Prestige in 1991, and stayed there for a year before returning to Ireland to promote shows with MCD / Wonderland for a period of 12 months, booking concerts in one of the main northern rooms. He then returned to London to join FAB Agency, followed by a year at Solo. He joined Helter Skelter in 1997, where his career grew and flourished.
In February 2005 Steve formed a new independent agency with Ian Huffam, Scott Thomas, Jeff Craft and Martin Horne, X-ray Touring Limited.
Some of the main clients Steve worked with included Eminem, Coldplay, Snow Patrol, Queens of the Stone Age, Jimmy Eat World, and Bright Eyes. He also worked for many years with one of his favorite bands, Ash.
"I have worked with them for 22 years, since they were 15," he said recently. "I had very, very successful years with them. I built them in South East Asia, Australia, Japan, where they're still important to this day. It all comes down to that word, longevity.
Steve had taken on the role of manager with Ash and often ended up playing drums with the band. He was a rocker through and through. Asked by Hot Press last year about the highlights of his career, he pointed to how he had built Queens of the Stone Age from an unpromising start to become a huge crowd-puller.
"Steve Strange was a really good character," said Niall Stokes, editor of Hot Press. "He was definitely larger than life and loved to be involved in music. The point is, he ended up operating at the highest level possible in a company where you have to be really good to do well.
"He was an industry legend, not only because he was great at his job, but also because he had a wonderful sense of fun and a proper attitude, which was very contagious.
"I talked to Steve as often as I could. He was always on the lookout for brilliant new artists, and I encouraged him whenever possible to hire new Irish artists. But he also had a fantastic sense of what mattered – which is to build a career as an artist in a way that will pay off for people of true talent, over a period of years.
"When you look at the status and accomplishments of some of the artists he's worked with – Snow Patrol, Eminem, Coldplay, and Queens of the Stone Age among them – you get an idea of ​​how he achieved that goal on behalf of his clients – many of whom were, of course, his friends.
Steve never forgot his roots, returning to play with No Hot Ashes in recent years. And he loved nothing more than doing his occasional stints behind the finishing kit with Ash.
"Longevity and loyalty go hand in hand," Steve observed recently. "Generally, if you do someone a great service and build a great relationship, respect with the artist, then you can last as long as you feel passionate."
The truth is, Steve Strange spoke it like he walked it. He was as loyal as he was efficient. And he's always had Ireland – and Irish talent – at the forefront of his mind.
"I remember calling him to ask him to be on The Music Show in RDS a few years ago," added Niall Stokes. "He said 'Yes' immediately, even though it would involve him in a few flights to get to a remote part of the world at the right time. He was very generous with his time and his advice.
"Steve will be sadly missed by all who knew and worked with him. And personally, I will miss the chats, the catch-ups and the laughs that we always had when we spoke. It was the hour. a jam with Jimi Hendrix, I guess … "