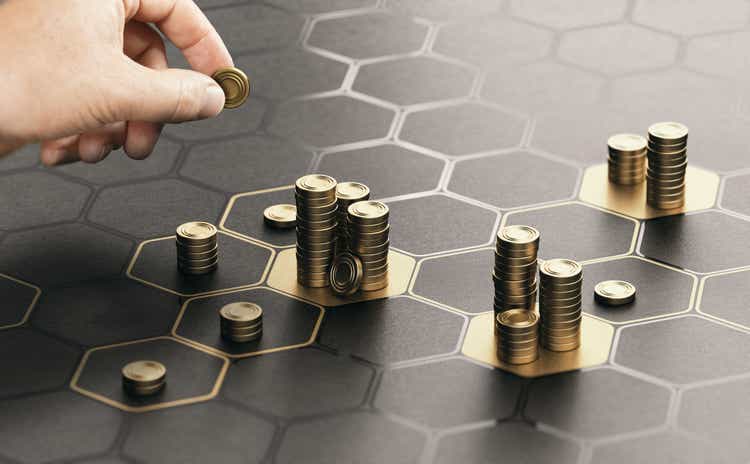 Will war change the way we spend or invest our money?
I've been discussing Ukraine's potential for invasion with a friend over the past few days and how this new war could change the global economy. We ended up discussing the invasion of Kuwait which took place in August 1990. At that time, as soon as the invasion of Kuwait began, consumers almost immediately changed their spending and financial habits.
Suddenly people stopped going out for dinner after work. They stopped going out for drinks. They also stopped playing computer games and spending money on most outside entertainment (movies and movie rentals – in the blockbuster days). In short, consumers have become enthralled with televised warfare and lost focus on almost everything else.
As the conversation progressed, we started talking about how the U.S. Federal Reserve might suddenly find that consumers have started to drift away from traditional consumer habits and how quickly those consumer trends can alter the economic landscape.
For example, nearly 60 days after the invasion of Kuwait, my friend recalled that the US economy had shifted into a much slower gear and consumers continued to steer clear of more normal consumer habits. .
If that happens in today's hyper-inflated world, we could see a sudden shift in inflation, retail, housing, and general consumer demand very quickly. Recently, I've started receiving messages from friends and clients around the world who are focused on the invasion of Ukraine – a whole new generation of people who might be fascinated by televised warfare (again).
Retail trade could suffer a -60% collapse
This weekly XRT chart highlights pre-COVID support levels that could become future targets if consumer spending habits suddenly change. XRT has already fallen nearly -32% from recent highs. If consumers continue to move away from outside economic activities or more mainstream post-COVID economic activities, we could see the retail sector continue to decline.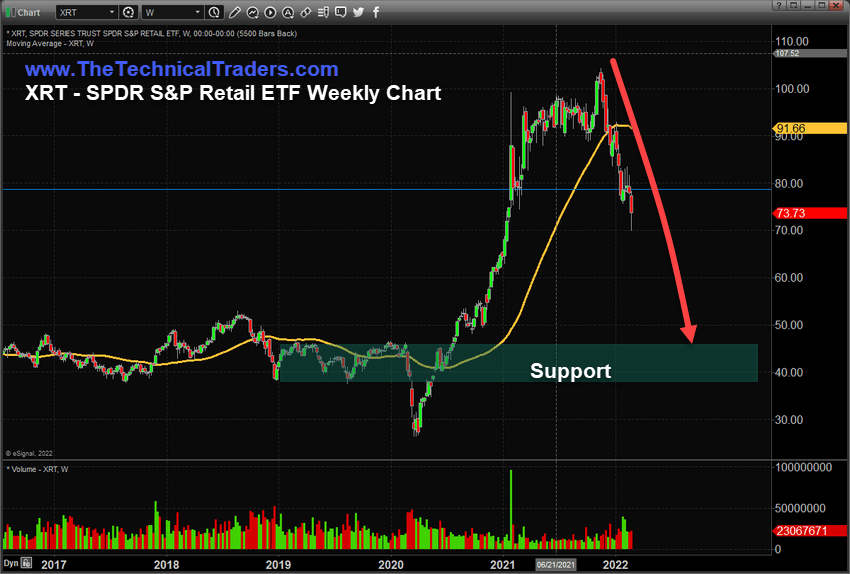 Housing could contract faster than expected
Real estate may contract to approach COVID lows if consumers are reluctant to continue speculative house price trends. House flipping has become a very popular industry over the past 5 years.
Yet larger companies like Zillow (Z) and OpenDoor (OPEN) suddenly started unloading their real estate inventory because consumer demand shifted ahead of the US Fed's proposed rate hikes in 2022. The double whammy of rising rates and war may be similar to what happened in the United States between 1993 and 1994 – a very stagnant housing market.
The IYR has already fallen -16.5% from the highs and could drop to levels near -30% (or more) before finding a bottom. Wars tend to change economies and spending habits very quickly.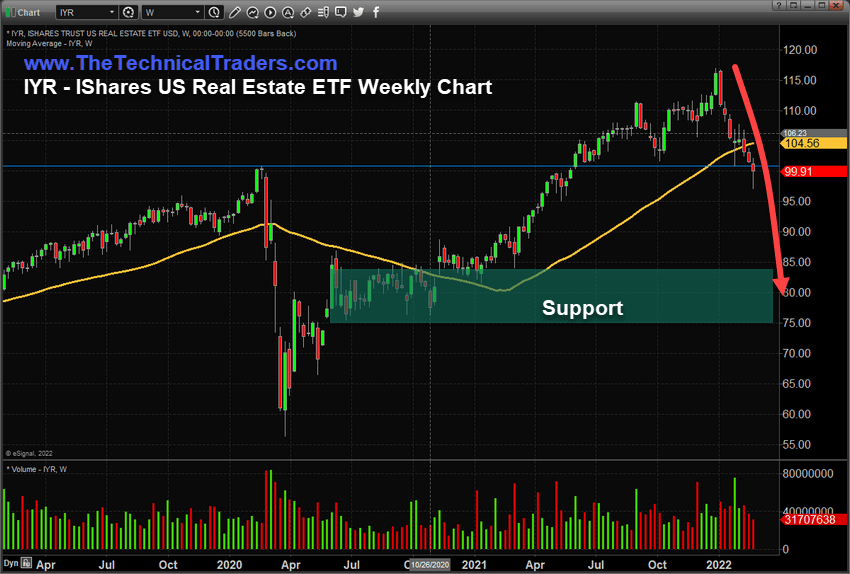 What to stay focused on in the midst of all the noise
Traders should remain very focused on market risk and weakness. I expected the conflict in Ukraine to have been priced into US markets over the past 7 days.
However, I believe the markets were unprepared for this magnitude or invasion and will attempt to settle to fair equity price valuation levels as the conflict continues. This is not the same US/Global market uptrend that we have become accustomed to over the past 5 years.
Market dynamics and trends are changing from what we have seen over the past 40 years for stocks and bonds. The 60/40 wallet is costing you money now. Traders need an edge to stay ahead of trends in these markets and to protect themselves and take advantage of big trends.
The only way to navigate financial markets safely in any direction is through technical analysis. By tracking asset and money flows, we identify trend changes and move our capital into any index, sector, industry, bond, commodity, country and ETF. even currency. By following the money, you are part of new emerging trends and can profit from weakness in stocks or bonds.
Original post
Editor's note: The summary bullet points for this article were chosen by the Seeking Alpha editors.