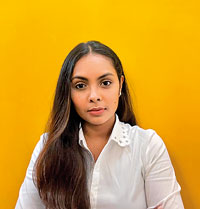 With her band of craftsmen, she creates fine jewelry | Print edition
By Ruqyyaha Deane
Views) :
At 29, Jagani Krishnakumar has over a decade of experience as a business strategist and is a skilled finance professional, but in July of this year she said goodbye to the corporate world to dedicate her time to be a fashion entrepreneur.
After graduating from high school at the Asian International School, Jagani obtained the CIMA, CIM and MBA degrees. Her interest in fashion, especially the design component, continued throughout her 9 to 5 job. Her entrepreneurial spirit led her to launch a clothing brand at the age of 16. years and co-founded "AJ" – a brand of accessories for men in 2013. Today, she focuses on a high jewelry company, "Mansa".
Realizing that she was still passionate about fashion, Jagani knew it was something she wanted to pursue fully and needed her own freedom of time to do so. Mansa, which she launched in January, offers fine jewelry and certified gemstones, sterling silver-plated jewelry, and a limited collection of customizable designs.
"It took me a while to put this in place because I also wanted to access the international market and also because of COVID. I started to realize that there were a whole bunch of people who were affected by COVID, especially the artisans because of the expat community and the tourists who did not come. Being able to work with artisans and help them directly was like the icing on the cake, "Jagani shares.
Sourced from gemstone certifiers, artisans and various local suppliers, Mansa gemstones are mainly sourced from the Ratnapura and Balangoda regions, with occasional gemstones sourced from Hong Kong and India. Making sure customers get exactly what they want and enjoy ordering, Jagani says Mansa jewelry is made to last with every handcrafted piece created with love and care.
"We provide a comfortable space for each client to describe their perfect piece and budget while giving expert advice, recommendations and explanations on our jewelry making process. This way, each customer has several design and material options with varying price ranges to meet all aspects of their expectations, "explains Jagani.
Taking the example of an engagement ring, she says that not all engagement rings need a diamond and must break the bank. An affordable alternative where you can achieve the same design and aesthetic aspects is provided by options of different precious metal weights, plating options and alternative gemstones.
Once the design is confirmed, materials will be researched and handcrafted will begin with a piece of jewelry typically taking 5-10 business days, or even longer if the customer requires a specific rare gemstone. Although Jagani's house is the base of operations for now, she hopes to have a workshop in the near future where she can work alongside the artisans. At present, she has a large network of specialist craftsmen, each working for her remotely.
"All of these artisans have decades of experience in different types of jewelry making. It could even be South Indian themed jewelry, Kandyan or even something very chic and minimalist, "she says.
When asked what sets Mansa apart, Jagani confidently says she wants people to be comfortable with the whole process and have the opportunity to chat and be honest about what they want. really and how much they are willing to spend.
"I realized I love the design process. Understanding what the customer actually wants to see in the sketch and have it made. It is also just knowing that I am part of the milestone or celebration of that client's life. I don't mean to say that I'm a designer per se, but a creator because I love to listen to people's opinions and bring their ideas to life, "she says.
Check out mansa on Instagram – @ shop.mansa, contact them via email – [email protected] or visit their Etsy page on
https://www.etsy.com/shop/ShopMansa